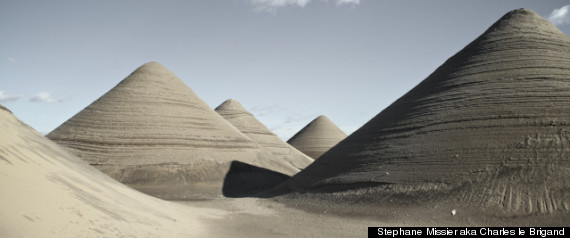 Pyramids in New York City?
He had been documenting the toll Sandy had taken on the New York area and decided to snap some photos of the 18 sand pyramids, measuring 30 feet tall.
The pyramids were not some marvels of nature, but rather manmade dunes created by workers cleaning up the area strewn with ocean debris in the wake of the storm in October.
"Different thoughts came to mind when I saw these manmade pyramids made out of sifted sand... the 'Dark Side of the Moon,' the Sahara and pre-Columbian pyramids," he told The Huffington Post in an email. "Construction trucks, hauling machinery on the site as well as conveyor belts, generators, watch towers, and pole lights gave me the impression of being on some kind of a spatial station. Definitely not in New York."
"It was heartbreaking," he said. "I have no words to describe what I saw that day."
New York City wasn't the only region to resemble the Sahara in the aftermath of Sandy. In Ocean Grove, N.J., a shore town located about 60 miles from Manhattan, those helping clean the area used bulldozers to push excess sand into pyramid formations.